Our Story
We are a family and community oriented company with a straightforward vision. We believe that when it comes to cabinetry: design, quality, and function really does matter.
With this mind-set, in the summer of 1984 Dan made the leap from building yacht cabinets to residential cabinets. Oh, and he had one customer. Dan and a partner set up shop with a table saw and hand tools in a rented Merritt Island bay.
Thousands of clients later, Cabinet Designs of Central Florida has since grown. We've built a manufacturing facility in Rockledge, added another building, survived the market downturn; all while gaining an exceptional reputation among homeowners, designers, and builders. Many consider our company the premier custom cabinet manufacturer in Brevard County.
Today, family and community are still our cornerstones. Our name is our reputation. Our clients are treated as part of our family. And if you're lucky enough, you'll run into a grandchild or two when you visit our shop!
Dan and Sherry ScotT
Owners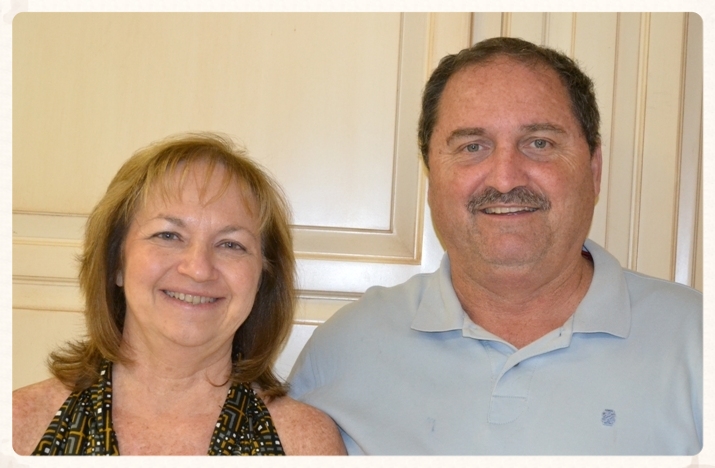 Dan and Sherry began this journey together over 30 years ago. A Rockledge native, Dan has been a wood worker since he can remember. Now a master craftsman, he splits his time between sales, design, and shop foreman. Dan's commitment to quality and customer satisfaction has earned him a stellar reputation in the industry.
Sherry is the glue that holds this operation together. She holds many roles, from designer to human resources to CFO. We're really not sure what we'd do without her.
But above all, what makes these two really come alive, are their four grandchildren - Cailey, Addison, Andrew, and Jordyn. Nana and Poppy love spending time with and spoiling this crazy crew!
Scott Riley
General Manager
In 7th grade, Scott fell in love with a girl who's dad owned a custom cabinet shop. The rest is history.
He is a Melbourne High School alum and Palm Beach Atlantic University graduate. Scott started up and ran our Atlanta showroom in the Buckhead design district before moving back home to work at the mother ship.
Always up for a challenge, Scott isn't afraid to dive into new projects. But his favorite activity these days is playing outside with his 4 year old son (Andrew) and holding his new baby girl (Jordyn).
Leslie Riley
Principal Designer
Leslie got an early start into the cabinet business. She has early memories of sanding cabinet doors after school and playing hide-and-go-seek in the showroom.
After graduating from Palm Beach Atlantic University, she spent 8 years in Atlanta before moving back home to work in the family business.
Leslie is an innovative designer with a keen eye for colors and style. And if you want to talk all day...ask her about cabinet hardware! When Leslie is not spending time with her family, she enjoys cooking and relaxing with a nice glass of red wine.
Derek has been designing and building custom cabinetry for over 30 years. He joined us in 2008 after successfully running his own cabinet shop for 10 years. Prior to owning his business, Derek built custom cabinets for Sea Ray boats for 18 years.
By merging his clients with our manufacturing capabilities, he is able to provide his clients exactly what they want.
Derek is admired by his clients and treats them as the star of the show. His ability to design and build, separates Derek from the rest. Impossible is not in his vocabulary.
When Derek needs to get away, you can find him playing golf on a local course.